Cập nhật lần cuối vào 18/05/2021
Starting her lecturing job from the very first days after university graduation, and after many years of teaching, Assoc.Prof.Dr. Lam Hoai Phuong became a learner again although she always wants to continue lecturing and interacting with her students every day. And looking back, she views that decision as a milestone in her life.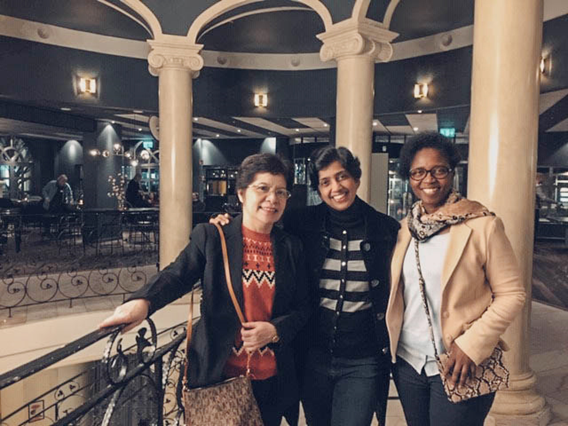 In 1981, Phuong was a graduate student from Primary Medicine, specialized in pediatric surgery and officially became a young lecturer at the University of Medicine and Pharmacy, Ho Chi Minh City. For her, teaching is passion. Though she was doing professional work and the workload of a medical doctor took up almost her time, she continued teaching.
"In teaching, besides the knowledge and experience I bring to students, I also learn from them. The knowledge gained in teaching, I use to serve for my professional work," she shares her teaching passion.
Her whole working journey can show that working as a medical doctor and lecturing goes hand in hand. As she says, "If you stop studying, you are falling behind."

Forever, being doctors and teachers are noble occupations, respected by the society. Yet, at that time, at the peak of her doctor career, she decided to give priorities to studying.
Notably, during the 1990s, Internet in Vietnam was underdeveloped, therefore opportunities to learn from the world were very limited. And she had to manage to study English well. In 1994, Ms. Phuong got Plastic Surgery training in the US. In 1995, she went to Canada to continue studying in the same specialty.
She sees her years studying abroad as an opportunity, a challenge, not to do other jobs to pursue her studies. And when overcoming the challenges, she found herself herself growing up a lot.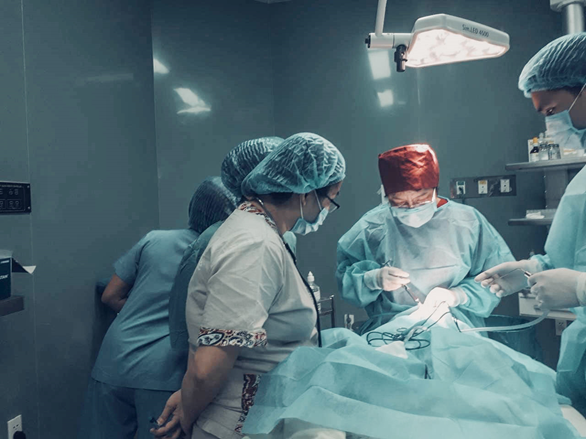 Looking back her past journey, she considers her 3 years of being with specialized courses abroad as her most important milestone. "Studying overseas, I learned a lot from my foreign teachers and doctors of high class, broadened my horizons, found my weaknesses and constantly updated my knowledge." Not just knowledge, she also learned a lot about the thinking, overall view, management, and teaching styles from international teachers. That has brought to her many opportunities to develop a career in medicine and teaching in Vietnam.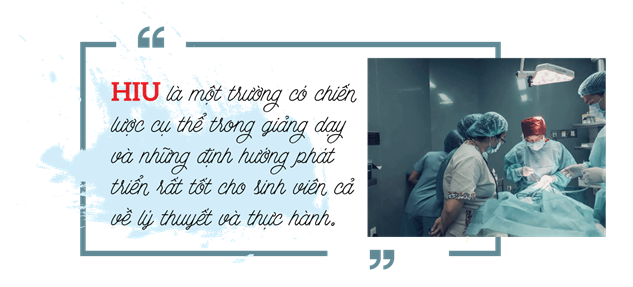 Completing abroad programs, Ms. Phuong returned to teaching, continued her passion for conveying knowledge and experience to students. At the same time, she successfully defended her doctoral thesis. At the same time, she held many important positions such as Director, Department Head at major hospitals and prestigious universities in Vietnam. From 2007 to 2019, she served as President of Ho Chi Minh City Plastic Surgery Association.
Especially, after a period of teaching at major universities in Ho Chi Minh City, in June 2020, she accepted the invitation to beome Head of Department of Maxillofacial Surgery, Faculty of Odonto Stomatology, Hong Bang International University.
"Hong Bang International University has specific strategies in teaching and development orientations very good for students in both theory and practice. Therefore, I want to join lecturing so that I can continue to teach and exchange with the students in medicine and dentistry. And HIU respects and creates conditions for me to share and promote my experience and knowledge."
"In addition to knowledge, I always pay close attention to educating students how to live and work."

In the era of Industry 4.0, with the development of the Internet, students have more opportunities, maybe without so much time with teachers, they can still learn a lot of knowledge online. However, the role of teachers and the tradition of respect for teachers is still important that learners need to understand and practice.
"The teacher's role is indispensable, but the communication methods need to change to make teachers and students understand each other better and connect better. Worldwide, methods of teaching and learning have also changed a lot, I also need to learn, but depending on the appropriate circumstances of each place, there should be some changes up to realities."
Teachers' role is to spread out professional knowledge and experience, share medical ethics and enthusiasm for the profession. And this is also what Associate Professor, Dr. Lam Hoai Phuong has always had in mind for her career of "growing people" over the past 30 years.
"In addition to knowledge, I always pay close attention to educating students how to live and work. Being a kind and nice person, do not forget those who have helped you, even the smallest support. For example, my patients are also the ones who help me, because they trusted me with my efforts to help them. Especially, you must listen, try to learn, learn from the right and wrong, then choose the best way to do it. You must always share the knowledge you have learned with teachers, friends and people around ".
Assoc. Prof. Dr. Lam Hoai Phuong
December 1981: Preliminary Medicine graduation, Pediatric suygery / Teaching at University of Medicine and Pharmacy Ho Chi Minh City
2000: Maxillofacial Surgery Lecturer, Faculty of Odonto Stomatology, University of Medicine and Pharmacy HCMC
August 2005: Deputy Head of Maxillofacial Surgery, University of Medicine and Pharmacy HCMC
November 2006: Director of Ho Chi Minh City National Odonto Stomatology Hospital / Head of Maxillofacial Plastic Surgery Faculty / Head of Maxillofacial Surgery, University of Medicine and Pharmacy HCMC
2007-2019: Chair of Ho Chi Minh City Plastic Surgery Association
2013-2018: Head of Department of Maxillofacial Surgery – Odonto Stomatology, Hospital of University of Medicine and Pharmacy HCMC
March 2018-2020: Medical Advisor at Department of Maxillofacial Surgery – Odonto Stomatology
June 2020-Present: Head of Maxillofacial Surgery, Faculty of Odonto Stomatology, Hong Bang International University