Cập nhật lần cuối vào 19/05/2021
In hundreds of future directions for 18-year-old ones, why do we choose to become dentists or Odonto Stomatology doctors? In healthcare, dentistry is believed to comprise a half of treatment and another half of beauty and aesthetic procedures. This is extremely necessary because it influences physical appearance: focusing on part of the body, affecting a person's confidence, overall health, how you eat, sleep, drink, speak, talk and how you are perceived by others.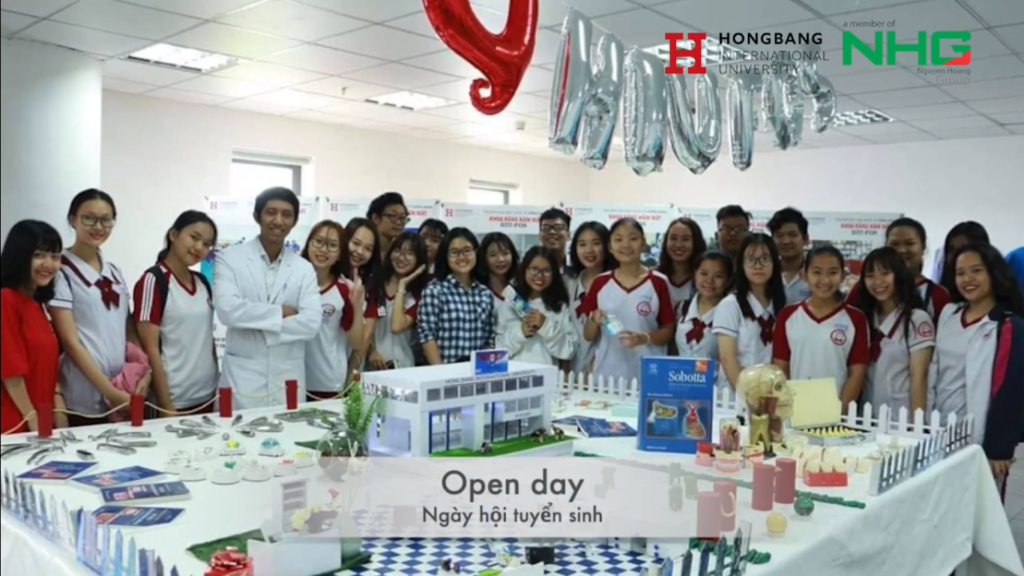 High demand for oral care in Vietnam
Filling teeth can help kill pain completely; Dentures can help people eat foods that without their teeth they cannot enjoy. Dentists help take care of everyone's health through the treatment of gum diseases, tooth decay and related conditions. This can help improve the patient's quality
of life. Besides, dentists or Odonto Stomatology doctors can change the appearance of your teeth and smile through teeth whitening or orthodontics. In many cases, doctors are helping them, to some degree, even simply by handling periodontal issues and checking the oral health periodically.
More than 90% of the Vietnamese population suffer from dental diseases such as cavities, gingivitis, inflammation around the teeth, tooth loss…. The demand for human resources in dentistry is huge.

According to the Ministry of Health and experts, Odonto Stomatology is a very specialized field, from differential diagnosis and treatment strategies to changes in occlusal and orthodontic, bone regeneration in implants, dental restorations, cosmetic dentistry, endodontic treatment, surgery and oral diseases – maxillofacial, periodontal, preventive dentistry
…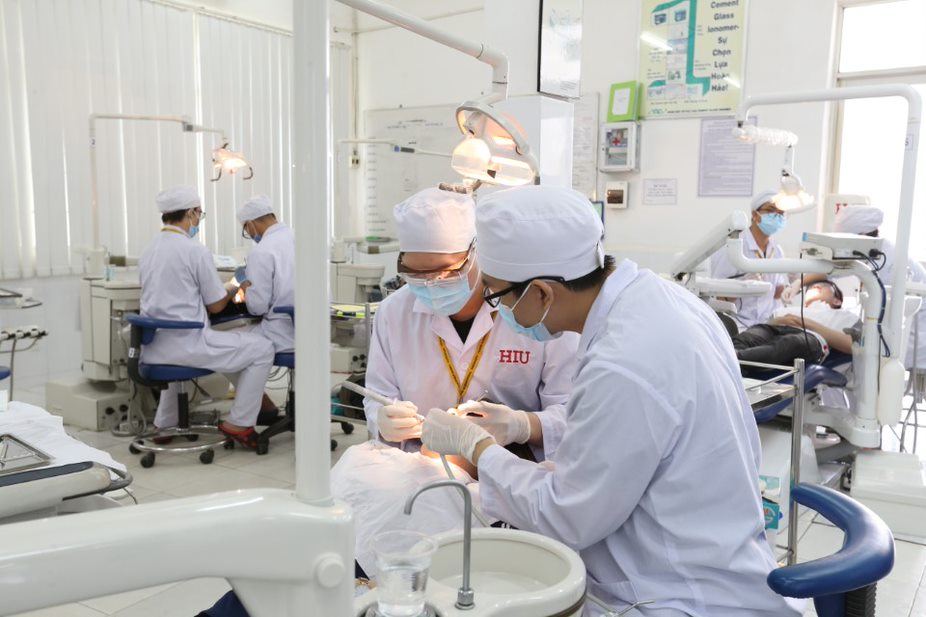 As recorded by the National Dental Hospital in Hanoi, a leading hospital in oral health, the hospital yearly provides medical examination and treatment for just about 200,000 people. Nationwide, about 10 million people are served and cared for. Consequently, more than 80 million other people still do not receive care about dental health and get no oral care serives.
Great number of foreigners get oral care in Vietnam 
Statistics from the National Dental Hospital in Hanoi shows that every year, almost 100,000 foreigners come to Vietnam for oral care, resulting in almost USD150 million. The number of foreign patients is predicted to increase 2.5 times over the next 3 years.
A survey by the Ministry of Health showed that in the first 6 months of 2019, the number of foreigners coming to Vietnam for medical examination and treatment increased, with 88,983 foreigners taking medical examination and 10,170 foreigners getting inpatient treatment. The Ho Chi Minh City Health Department has cooperated with the city Department of Tourism to implement tours combined with oral care services.
The Ho Chi Minh City Dental Hospital yearly provides examination and treatment for about 500 foreigners, not to mention thousands of Vietnamese expatriates living and working abroad who made the same choice with trust.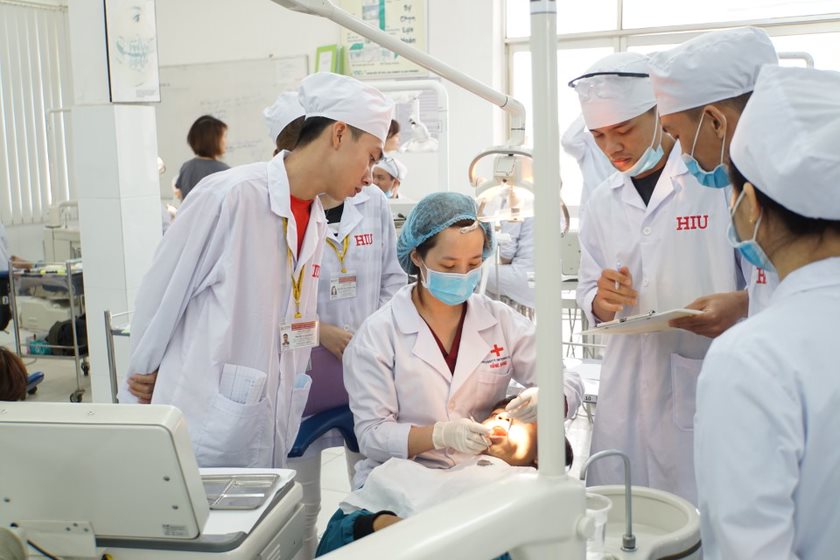 Vietnam is one of the top 3 countries in Southeast Asia voted by Australian nagazine International Living as the places offering high quality and lowcost dental services that Australians prefer.
Training dentists with a focus on clinical dentistry

Vietnam's breakthroughs in healthcare in general and dentistry in particular are encouraging high school graduates. Joining HIU's Faculty of Odonto Stomatology (code 7720501), students can choose English language or Vietnamese language training programs.
HIU's dental students will fully obtain Odonto
Stomatology knowledge to well function. The students are always supported to develop critical
thinking, practical career skills, and soft skills… to maximize their future career needs. The training programs are designed based on the high-quality programs of New York University, aiming at being close to and equal to qualities of famous universities in Asia.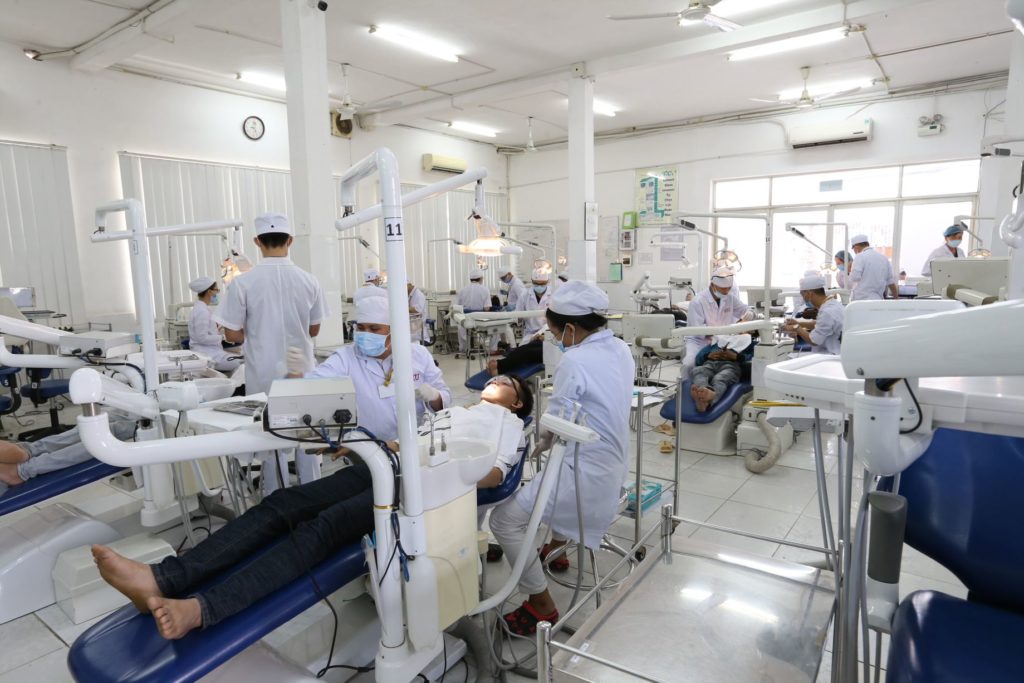 HIU's Faculty of Odonto Stomatology focuses on
practical training, with clinical dentistry being the mainstream direction. Our lecturers are leading experts with good reputation and many years of experience in clinical practice and lecturing at the University of Medicine and Pharmacy Ho Chi Minh City. The team include Associate Professor, Dr. Nguyen Thi Hong, Assoc.Prof.Dr. Lam Hoai Phuong, Prof.Dr. Hoang Tu Hung … In addition, the faculty also has joint training with the Hiroshima University in Japan and many prestigious universities in the world.
In the elderly and adults, more than 80% of people have permanent cavities 60% of children and more than 80% of adults have gingivitis, inflammation around the gums, inflammation around the teeth 30% of adults and older have pathological pus bags around the root, causing teeth to shake and this is also a large infection.
A very high rate (more than 80%) of adolescents have deviated teeth that need correction.
Oral cancer is also common at dental service institutions.
Along with that, every year, thousands of children
with cleft palate are born.
Source: Ministry of Health, National Dental Hospital
(Hanoi)
 Contact:
ADMISSIONS AND COMMUNICATIONS Dept.
Campus1: 215 Dien Bien Phu, Ward 15, Binh Thanh District, HCMC
 Campus 2: 120 Hoa Binh, Hoa Thanh Ward, Tan Phu District, HCMC
 Campus 3: 371 Nguyen Kiem, Ward 3, Go Vap District,HCMC
 Phone: 028.7308.3456 Ext: 3401 – Hotline: 0938 692015 – 0964 239172
Website: https://hiu.vn/ – Facebook:
https://www.facebook.com/hiu.vn/
Email:
tuyensinh@hiu.vn – admission@hiu.vn