Cập nhật lần cuối vào 18/05/2021
What is Odonto Stomatology about? It trains medical ethics, the basic professional knowledge and skills in medicine and dentistry to identify and participate in solving problems in prevention, diagnosis, and treatment of oral and dental diseases for individuals and communities. It also stimulates students to improve scientific research capacity, self-study to upgrade their qualifications and meet human needs and take care of teeth and deal with oral health.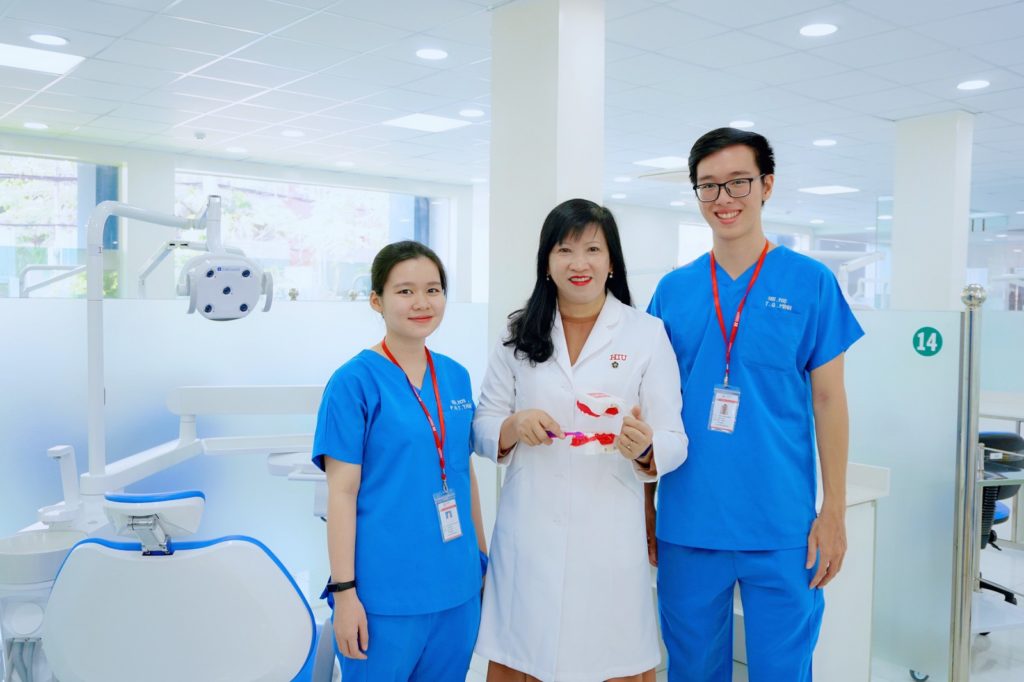 What are the majors?

1.      Basic dentistry (for example: shapes of teeth, how many legs each tooth has)
2.      Tooth imaging for diagnosis (filming to see if there are any cavities in teeth)
3.      Oral pathology (whether ulcers, swollen masses in the mouth are cancerous)
4.      Oral surgery (surgery, tooth extraction)
5.      Jaw surgery (palate cleft surgery, tumor)
6.      Dental implants
7.      Orthodontics (braces)
8.      Children's Dentistry (treating children's diseases)
9.      Public dentistry (oral intervention at a larger level: communities)
10.  Periodontal (taking tartar, treating loose teeth …)
11.  Dental treatment – Endodontic (filling – root canal)
  Restoration of teeth (making porcelain teeth, making removable dentures)
What are the interesting subjects?
In addition to the subjects of 12 majors, there are other interesting subjects such as Basic Integrated Clinical Cases, International Dental Overview, Creative Thinking in Health Science. The optional modules include: Scientific Research, Pathology – Oral and Facial Surgery, Rehabilitation Dentistry, Preventivion and Development Dentistry …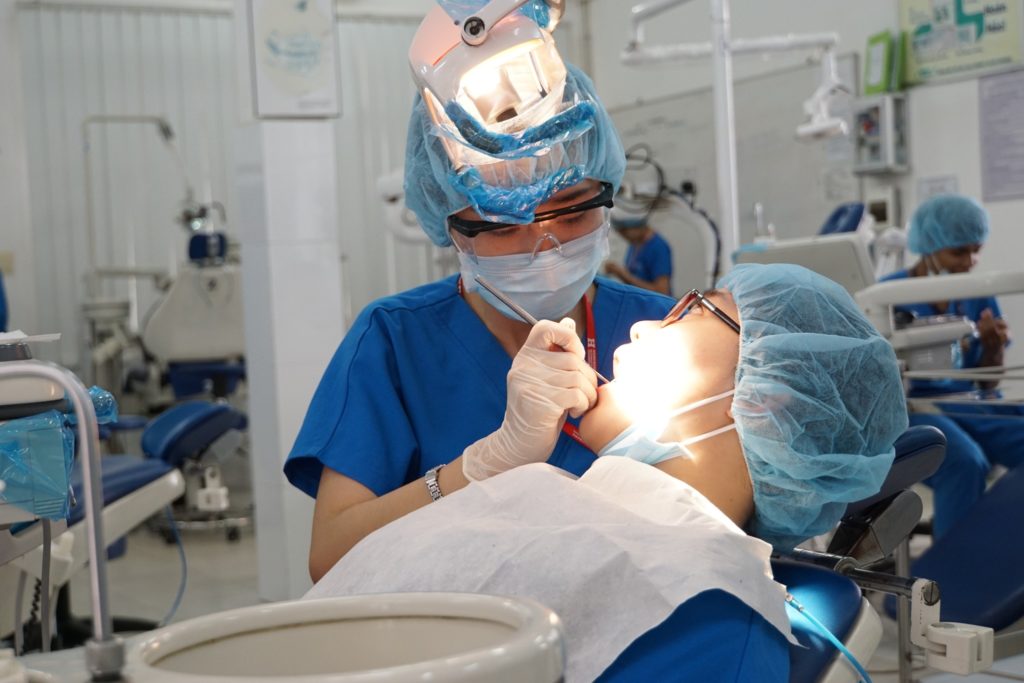 What percentage of practice credits?
Nearly 40%
What will you do after graduation?
Doctors of Odonto Stomatology can provide examination and treatment, lecture, make scientific research and do medical management, are qualified for the following positions:
Public and non-public health institutions
Medical woker training institutions
Research centers
Medical regulatory agencies


What are career promotion opportunities?
After graduating, the students can continue to study and research at higher levels in Vietnam and abroad:
 Resident Doctor
Specialist
Master Degree
PhD
Related disciplines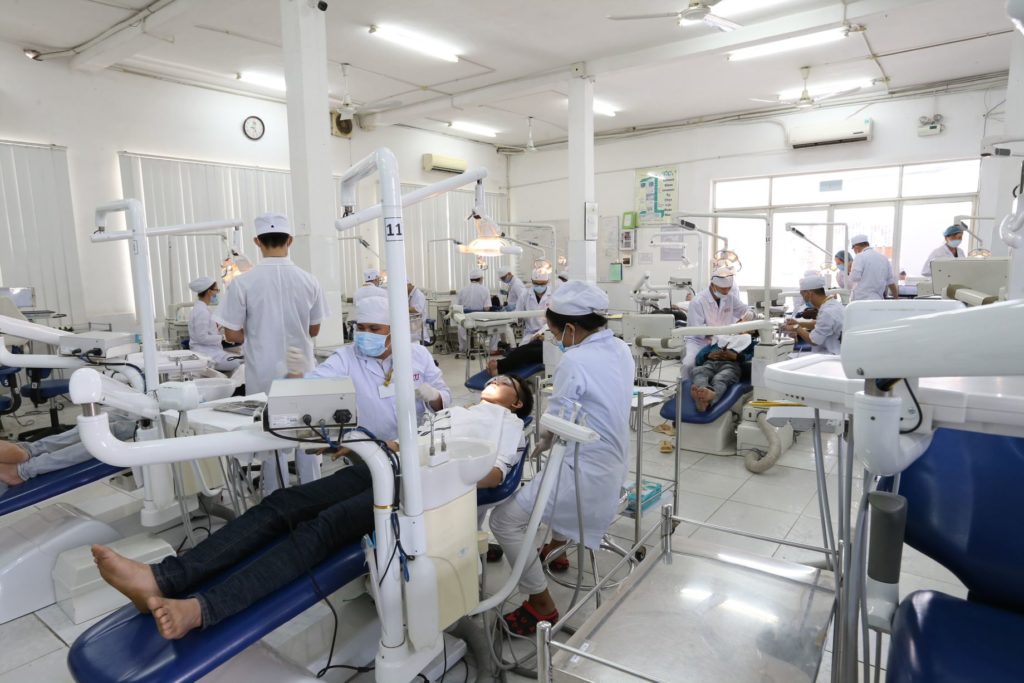 Minimum salary after graduation?
From VND20 million or more
Is it possible to continue with MA in Vietnam or abroad?
During their study, the students can interact with teams of foreign lecturers and researchers (Japan, Korea, Canada, and Thailand). Therefore, they can network and find opportunities for overseas postgraduate (such degrees as Master, PhD). In addition, after graduation, the students can also have opportunities to study for a Master's degree at universities with Odonto Stomatology in Vietnam.
–Training length: 6 years
 This is Hong Bang International University's unique selling point mentioned in the subject "Overview of the Faculty of Odonto Stomatology ". Students have early access to the work of dentistry with different subjects. Right from the first year, the students are to get practice times at Ho Chi Minh City Dental Hospital, Worldwide Dental Laboratory, Viet Quoc Dental Laboratory …
Clinically, with the K17 course, the students will get internship from year 5 at the Ho Chi Minh City Odonto
Stomatology Hospital, the Central Odonto Stomatology Hospital. With the K18 course onwards, the students will get internship from year 4 at Ho Chi Minh City Odonto Stomatology Hospital.
How much does a credit cost?
 VND91 million per semester for the Vietnamese language integration program
 VND110 million per semester for the English language international program.
 What are the excellences of HIU's training program?
The HIU Odonto Stomatology Doctor training program has many advantages to help students soon know their path to becoming an Odonto Stomatology Doctor right from the moment they enter the school through the
subject "Overview of the Odonto Stomatology industry". This will bring students into the world of dentistry, help to seed their ideas, dreams, and ambitions.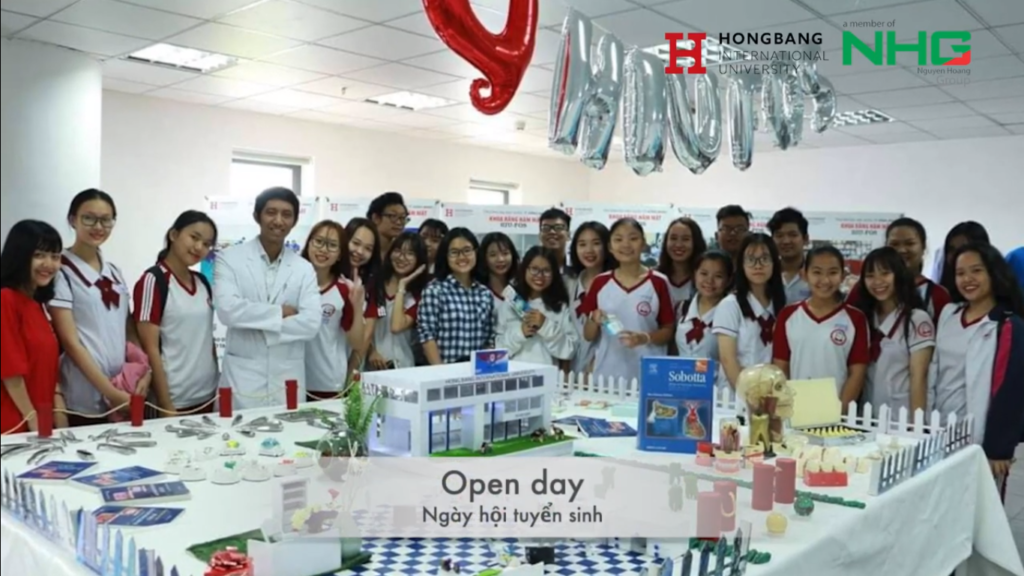 Sector leading lecturers:
Assoc.Prof.Dr. Nguyen Thi Hong, Medical Dr, specialized in Oral Pathology – Oncology
Level-2 Medical Dr Lam Huu Duc, specialized in Prof.Dr. People's Teacher Hoang Tu Hung, leading lecturer
in Vietnam's dentistry
Assoc.Prof.Dr. Lam Hoai Phuong, Medical Dr, specialized in jaw and facial surgery)
Dr. and Medical Dr. Vo Van Nhan, specialized in dental implants
Number of Associate Professors, holders of MA, PhD: 1 Professor, 3 Associate Professors, 2 PhD, 2 level-two medical doctors, 11 MSc
HIU's Odonto Stomatology Faculty lecturing team include leading experts, reputable and experienced in both lecturing and clinical practice.
Why should you choose HIU's Odonto Stomatology?
Practicing specialized skills at major hospitals in Vietnam.
 Regularly getting trained in specialized English.
 Studying abroad and joining short-term courses at international training institutions affiliated with HIU.
 Improving soft skills such as communications, leadership, teamwork, and creativity through innovative, engaging and essential programs.
 You will have the opportunity to become a good dentist in the future.
 Lecturing team:
Assoc.Prof. Nguyen Thi Hong, Medical Dr., who wishes to bring HIU students to the world
Assoc.Prof. Lam Hoai Phuong, Medical Dr., "Golden Hand" in mouth and face surgery
Medical Dr. Vo Van Nhan, PhD, implant specialist, who brings Vietnam's dentistry to the world
Practice premises
 The pre-clinical area with modern clinical simulation system helps students practice well before starting clinical treatments, with separate laboratories for each subject such as dental treatment, endodontics, prostheses, implants, dental surgery …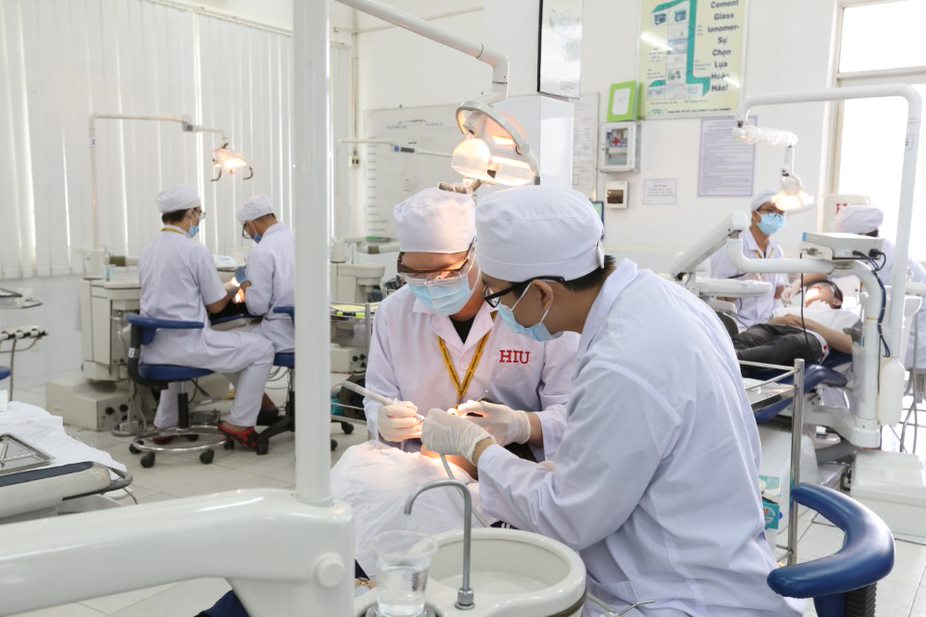 Disciplines of strengths
Oral Pathology / Jaw & Face Cancer (with Assoc. Prof. Nguyen Thi Hong, Medical Dr.), Oral and Facial Surgery (with Assoc.Prof Dr. Lam Hoai Phuong), Dental Implantation (with Medical Dr. Vo Van Nhan, PhD)
2. EXTRACURRICULAR ACTIVITIES
What are the extracurricular activities for students?
 Practicing English, practicing soft skills, sports, volunteering, learning more about Japanese and Korean cultures.
 Are there any clubs or groups?
 There are diverse clubs such as DEC (Dental English club), DIC (Dental Integrated club), football, badminton, volunteers' club, Japan club, Korea club …
 What are the typical events of the faculty?
 Welcoming Ceremony for New Students, Ceremony for Year-two and Year-one Students' Ties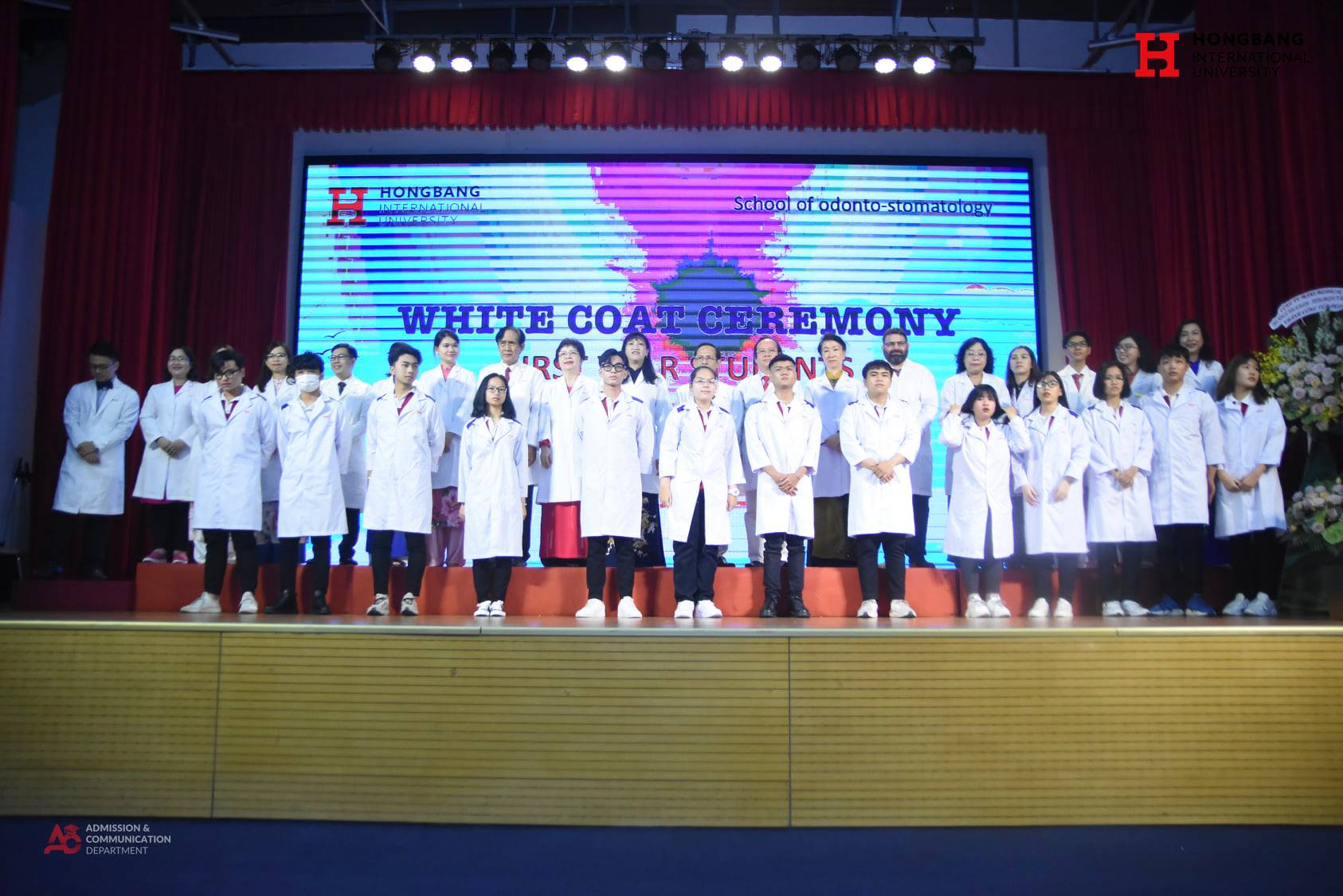 Opportunities to study abroad include the following programs:
International Dental Course (IDC, or 1-4-1 for short): the 4 years in the middle are for studying at the University of Hiroshima in Japan.
 Short-term 6-Month Stay (SS6M): short-term 6-month study at Hiroshima University, Japan
 Short-term 2-week study abroad at Hankook University in Korea, UBC in Canada, Griffith in Australia
 Postgraduate employment and study opportunities:
 MA, PhD levels in Japan, Korea …
 Good English because the training program has a focus on English
 Program "You are a dentist" allows students to experience a dentist's daily work
 Project "Community-oriented Oral Health Communications": community-oriented oral health activities include translation, videos, posters, webinars by Faculty lecturers and students in cooperation with the Community Healthcare Organization.
Communications – Admissions Department