Cập nhật lần cuối vào 13/09/2022
On September 8th, 2022– H.E. Dr. Madan Mohan Sethi – Consul General of India in Ho Chi Minh City, visited Hong Bang International University and Indian students currently enrolled to HIU Medicine major.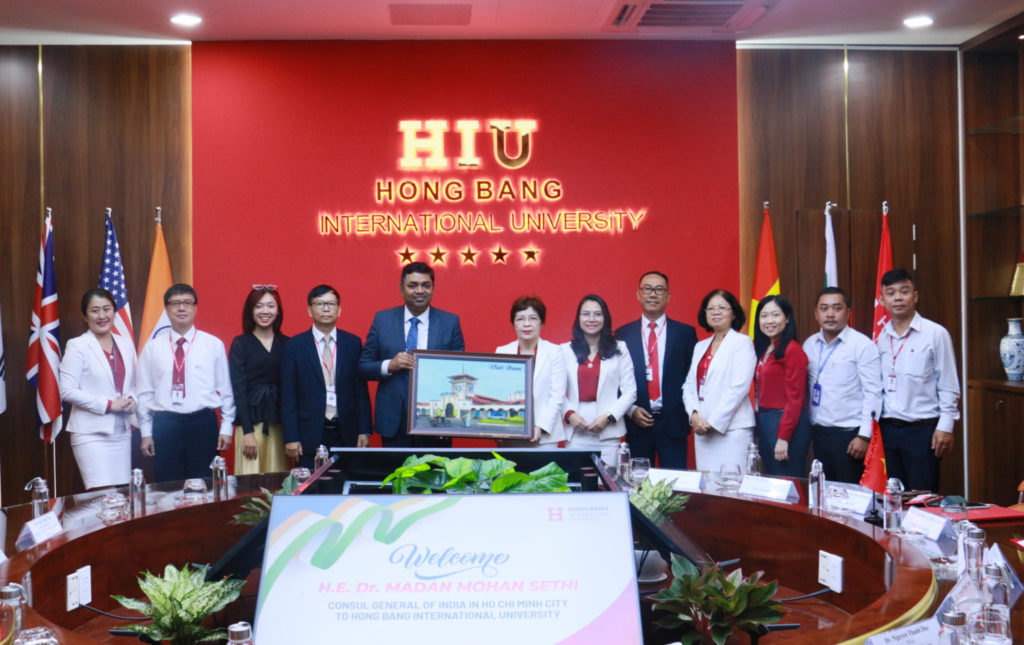 There are many more Indian students coming to Vietnam and joining Medicine majors. 
H.E. Dr. Madan Modan Sethi had a chance to visit the practice area of the School of Health Science, which included:
Anatomy labs, Embryonic tissue, and pathology labs.
Physiology and pathophysiology practice room.
Biological and medical genetics labs.
Pre-clinical labs.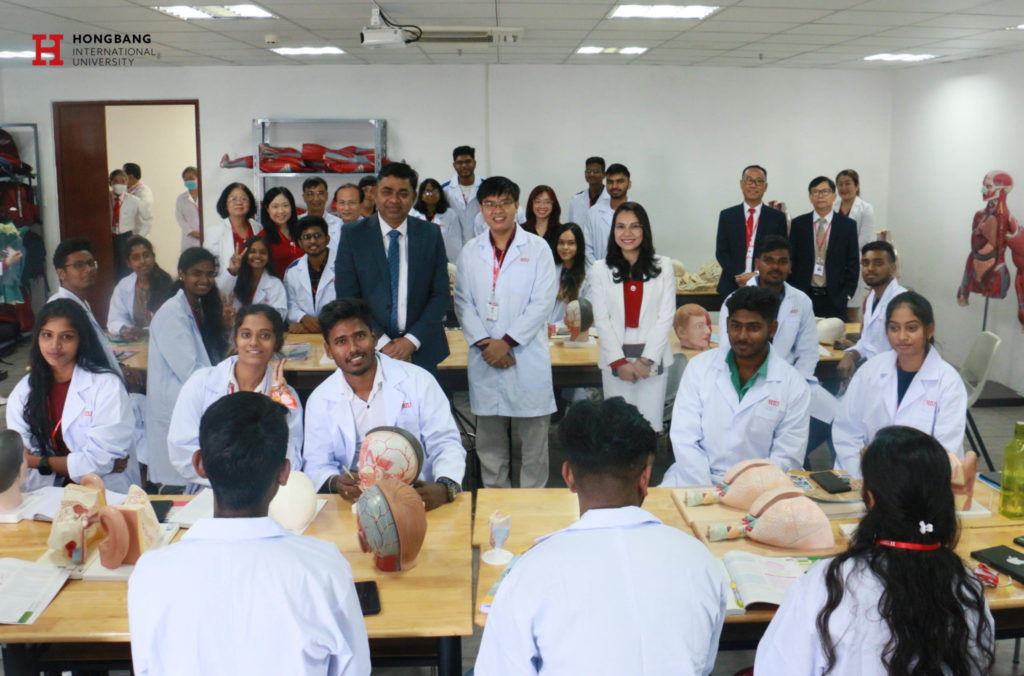 In the practice area, the Consul General of India had a chance to meet and greet our Indian students during their lab time.
He also visited the library, where most books were for everyone and our students in English; it also updated numerous book titles in professional and clinical books.
H.E. Dr. Madan Mohan Sethi – Consulate General of India in Ho Chi Minh City, expressed his opinion, "I felt that Hong Bang International University did a better job in attracting international students to join in Medicine major than other Universities in Ho Chi Minh city and Vietnam in general."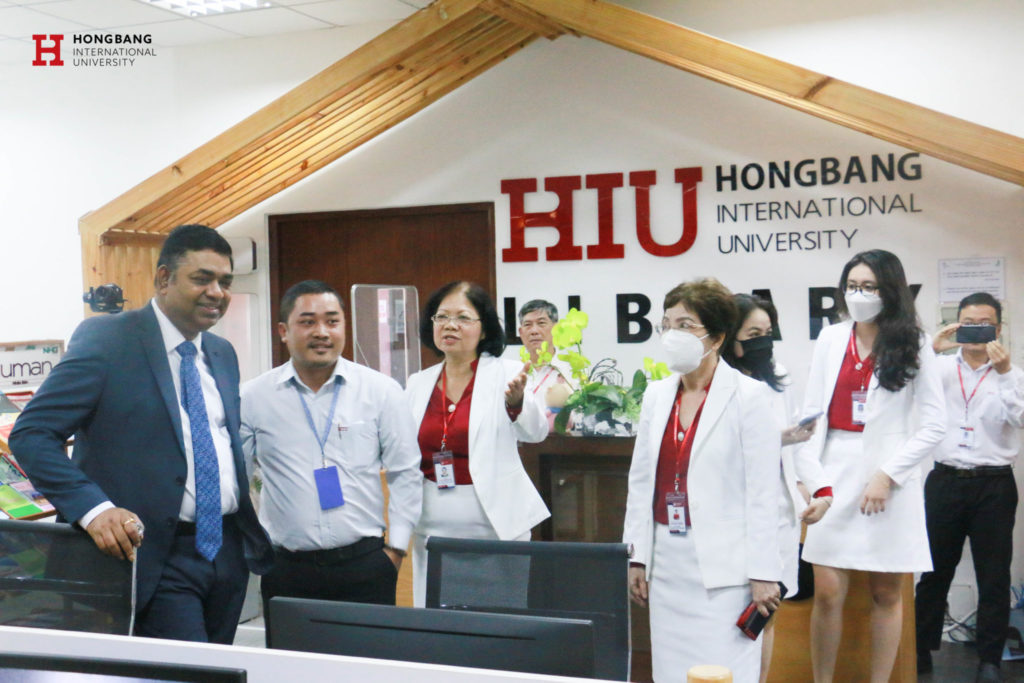 H.E. Dr. Madan Mohan Sethi appreciated the investment in infrastructure and laboratory rooms at HIU and stated that more Indian students would come to Vietnam and HIU to join in Medicine major. Each year, India has approximately 80,000 students who graduated in Medicine major but decided to work overseas, such as in the Philippines, Russia, Pakistan, etc., which became the cause of the shortage of employment. Therefore, he hoped to push forward with better educational programs and memorandum of understanding (MOU) contracts. H.E. Dr. Madan Mohan Sethi, also the Consul General of India in Vietnam, is willing to support any international connections with medical facilities in India to help in teaching and training to increase the professional knowledge of Indian students.
He declared, "We will build a remarkable and persistent relationship; thus, I hope to invite your University administrators to visit our medical facilities and Universities in India to understand our training programs and see how to launch appropriately."
HIU pushes forward to internationalize 
HIU Vice-President, and Associate Professor, Dr. Le Khac Cuong represented HIU to briefly introduce to H.E. Dr. Madan Mohan Sethi about our University environment. HIU tries to internationalize education, which resulted in 9-majors training in English, including Medicine and Odonto-Stomatology, belonging to the School of Health Science. In 2022, HIU will have two extra majors: Pharmacy and Nursing in English. Plus, HIU also modified our programs to be fitted with Medicine majors in India and arranged to invite Indian professors to HIU to teach for upper-division majors.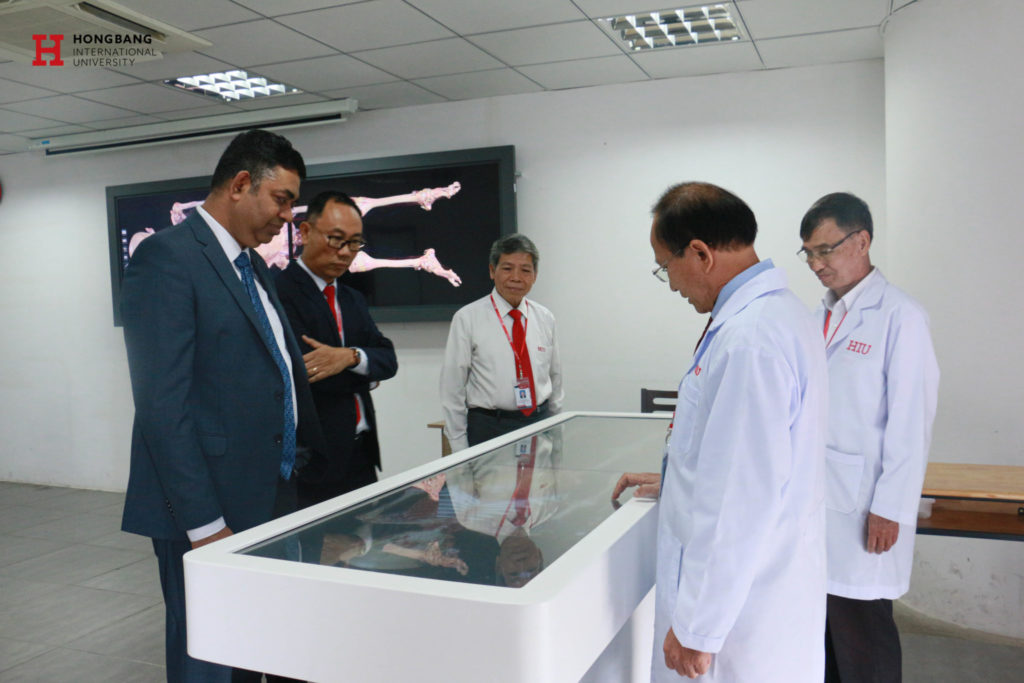 Recently, HIU continuously has numerous MOU with more than 20 hospitals and medical facilities which, included: Cho Ray Hospital, Thong Nhat Hospital, Nguyen Tri Phuong Hospital, Nguyen Trai Hospital, Odonto-Stomatology Hospital, etc., to enhance the internship opportunities for HIU students. Besides, HIU tallied many professors, doctors, and philosophy doctors to promote the School of Health Science. In addition, HIU just launched a Medical and Dental Clinic at Dam Sen center to have a medical institution for the community. Furthermore, for international students, especially Indian students, HIU will provide them with internship opportunities at F.V. hospital and American International Hospital (AIH). Our students have advantages while interning because they will communicate in English, and most medical records, doctors, nurses, and patients are preferred English.
To end the meeting, HIU also embraced the Consul General of India, H.E. Dr. Madan Mohan Sethi, a souvenir for an appreciative expression for his visiting and caring with HIU and Indian students.  
See more photos are here: