Welcome to Early Childhood Education
The Department of Early Childhood Education (ECE) trains preschool teachers to meet the needs of society and schools in the ECE system of Nguyen Hoang Group. ECE graduates will be teachers working in Vietnamese and international education environments, second mothers of children, health care and safety physicians for children, and artists. The artist inspires creativity for children and is a friend to understand and play with children.
– The ECE Department under the Institute of Educational Sciences of HIU was born from the actual needs of society and Nguyen Hoang Education Group (NHG);
– Students who take the entrance exam to HIU have the opportunity to work at pre-schools of the NHG system (Saigon Academy International Kindergarten (SGA), International Integration School System (iSchool, bilingual Academy) United Kingdom (UKA) Estimated number of ECE teachers needed for schools under the system in the next 3 years is 1,500-2,000 teachers;
– The training program is built on the research and update of advanced foreign programs to help learners form and develop their capacity to work in the Vietnamese and international educational environment;
– Strengthening English in specialized subjects;
– Opportunity to study and exchange abroad.
– Training teachers in the field of ECE who are capable of working in Vietnamese and international educational environments, have a full understanding of children's development, and are capable of organizing and developing effective ECE programs.
– Train teachers with skills in using English and applying information technology to organize educational activities for young people, and have skills in researching and applying scientific advances to ECE practice.
Career Opportunity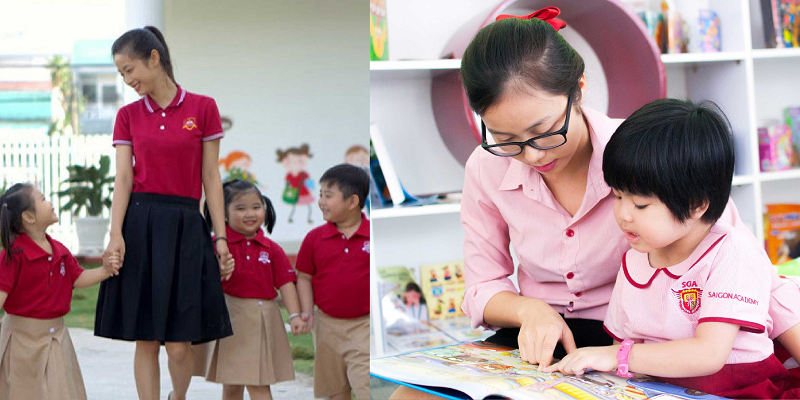 There are job opportunities at Kindergarten in NHG system, educational environment in Vietnam and internationally.
Teaching or working as a manager at ECE institutions.
ECE specialists at the District Education Departments, Departments of Education and Training.
Researcher at educational research centers or ECE Consultant.
Continue to participate in higher education and research at home and abroad.
Future Orientation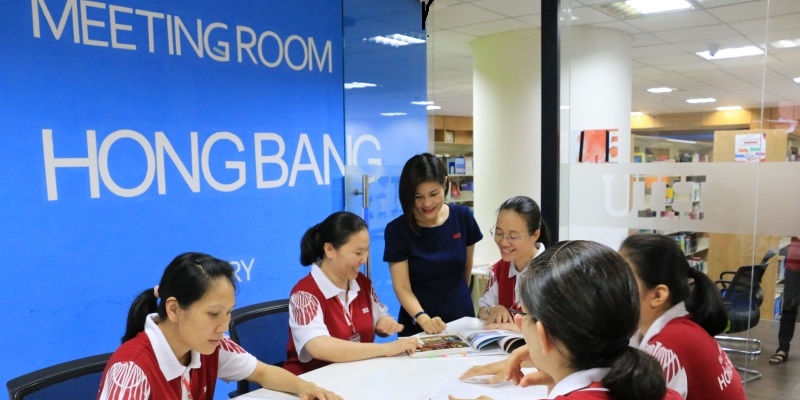 Our study program possesses many outstanding advantages to help you have the best study conditions. You will study with state-of-the-art facilities and experienced instructors. You will be expanded and updated with modern educational methods such as: Montessori, Reggio Emilia, High Scope, Project-Based Learning, etc. Your knowledge and skills are enhanced through a tightly integrated curriculum. between theory and practice. Your attitude to life is nurtured in an environment of loving discipline.
You will also benefit from the department's close relationships with pre-schools inside and outside the system.
In particular, you also have the opportunity to experience study tours at preschools in Korea and Taiwan. In addition, the internship program at the preschools of the NHG group will be an opportunity to help you confidently enter the real working environment right after you graduate.
Meet our lecturers at the School of Early Childhood Education
Dr. Trần Thị Quốc Minh – Psychology
Associate Professor Ph.D Nguyễn Thị Kim Anh –  Early Childhood Education
Mrs. Hoàng Thị Mai – Early Childhood Education
Mrs. Phạm Thị Loan – Early Childhood Education
Mrs. Nguyễn Thị Bích Ngọc – Early Childhood Education
Mrs. Ngọc Thị Thu Hằng – Educational psychology
Mrs. Trần Hoàng Anh – Early Childhood Education
Mrs. Nguyễn Thị Hồng – Early Childhood Education
Announcement – ECH
Blog Post: Nothing not found.
Tin tức
On July 10th, 2023, thousands of high school and HIU students enjoyed the phenomenon of the International Festival with diverse…
Xem thêm
Board of director
Dr. Trần Thị Quốc Minh
Deputy of Early Childhood Education department – Institute of Science Education
Email: Minhttq@hiu.vn
Mrs. Nguyễn Thị Hoàng Uyên
Contact with the department of Early Childhood Education
Tel: 028.7308.3456 (ext: 3419)
Liên hệ chúng tôi ngay:
0938.69.2015 - 0964.239.172