Cập nhật lần cuối vào 18/05/2021
Dental implant Robots for positioning have for the first time put into use in Vietnam and Southeast Asia. It is modern technology.
On June 19, 2020, at 9:00 AM at Nhan Tam Dental Center in Ho Chi Minh City, the technology transfer ceremony of Implant X-Guide Robot was co-held by Nhan Tam Dental Center, Envista Group and Medent Company, with the participation of representatives of Hong Bang International University and others.
DENTAL IMPLANT ROBOT REPRESENTS EXCELLENCE IN DENTAL IMPLANTATION
It is the most advanced technology today in dental implantation. This technology offers many advantages over old methods.
The positioning robot system has cameras to observe the movements of the drill. Dentists when drilling into the bone will see the exact position of the drill, the correlation of the drill with the patient's anatomical structure directly on the screen. Dentists can know the implantation directions and positions, not letting the drill hit important anatomical structures such as nerves, blood vessels, sinuses, thus reducing the risk of complications and delivering absolute safety.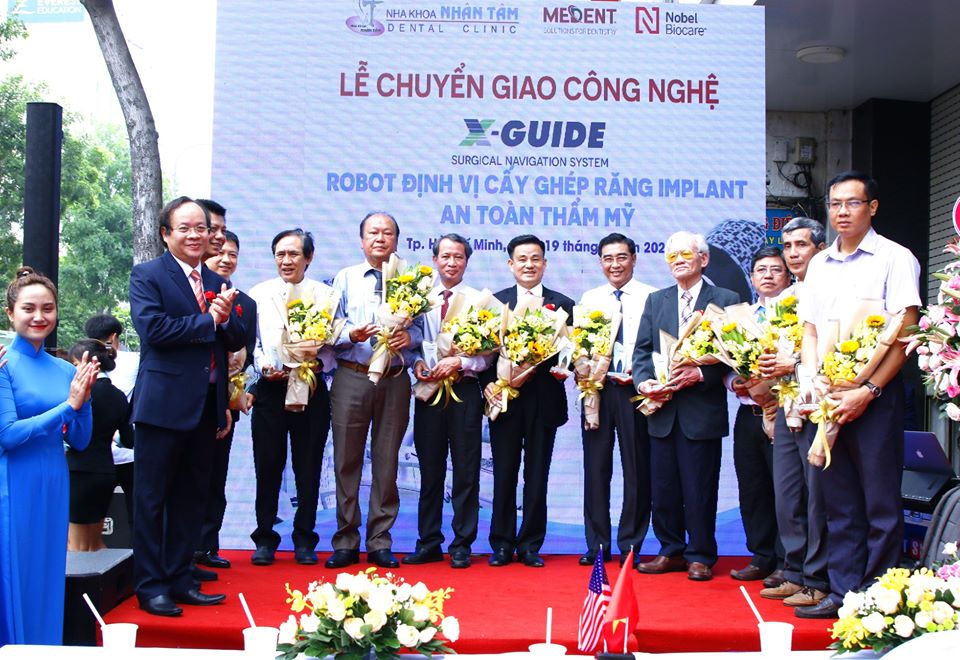 Not only an excellent clinician who can conquer and popularize new techniques and new equipment to improve the quality of treatment for patients, Dr. Vo Van Nhan, PhD, is also an enthusiastic researcher with many international articles with high application value, including articles in The Cleft Palate – Craniofacial Journal (USA) under the American Cleft Palate-Craniofacial Association. It is a world leading scientific journal.
Dr. Vo Van Nhan currently holds the position of Head of Dental Rehabilitation – Faculty of Odonto Stomatology, Hong Bang International University.
It is a great opportunity to study with Dr. Vo Van Nhan in dental restoration and dental implants, isn't it?