Department of English Language
Department of English Language
Welcome to English language
(Major code: 7220201)
English Language Department Hong Bang International University was established in 1997. With over 22 years of development, English Language major has trained thousands of bachelors who are fluent in English, successful in many fields such as management, foreign affairs. Translating, translating, and teaching English.
Objectives and career opportunities
Bachelor of English Language has in-depth knowledge of the Anglo-American language and culture, has the ability to use English fluently, and has appropriate professional skills to work effectively in the field of English language teaching. TESOL), translation and interpretation, communication activities, management in enterprises, restaurants, hotels, diplomatic missions, etc. The program aims to develop citizens with global capabilities, suitable for the international socio-economic integration.
The program is built in the direction of application, including 3 majors in accordance with the development needs of society: English Teaching Methodology (TESOL), Translation / Interpreting, and Office and Communication Administration.
The training program especially focuses on developing professional skills, increasing opportunities for students to practice practice and international integration.
Muticulture learning environment
Professional teaching staff, 100% of lecturers graduate from advanced countries. Students study with native English speakers from the first year of study.
Students from Vietnam and other countries. Elders Talk English Club, Elders Buddy Learning Club create an academic playground to help students develop interests and skills.
Admission methods
Follow 1 of 6 HIU enrollment methods: Learn more
To be adviced: Here
Future Orientation
Our programs have many outstanding advantages for you to get the best education. You will study with state-of-the-art facilities and experienced instructors. You will expand your knowledge through a project-based learning approach that combines theory and practice. You will also benefit from the discipline's close relationships with local and international business partners. In addition, the internship program will be an opportunity to help you be ready to enter the real working environment right after graduation.
The Academic Advisory Board of the Department of English Language are lecturers with a lot of experience and enthusiasm for teaching. Instructors will provide academic advice, career orientation and good learning steps for students to improve. Let's meet with the Academic Advisory Board.
Meet our lecturers at English Language:
Major code: 7220201
Introduction
The English language training program is designed on the basis of advanced training programs of many countries. Learners can choose one of three majors: English Teaching Methodology, Translating/Interpreting, Office Clerk, which are majors with many good job opportunities with high income.
Objectives
– Bachelor of English Language is fully equipped with knowledge, professional skills, political qualities, ethics and professional style.
– Graduates with English proficiency reaching C1 level (level 5/6) according to the CEFR competency framework.
Career opportunites
– Bachelor of English Language, capable of teaching English in Vietnam and the region, working at diplomatic missions, joint ventures, commercial transactions, translation… using English;
– Bachelor of English Language can pursue postgraduate majors: English Teaching Methodology, Applied Linguistics, Educational Management or equivalent programs in Vietnam and abroad.
More about the education program: Tiếng Việt | English
Facebook Fanpage: Ngành Ngôn ngữ Anh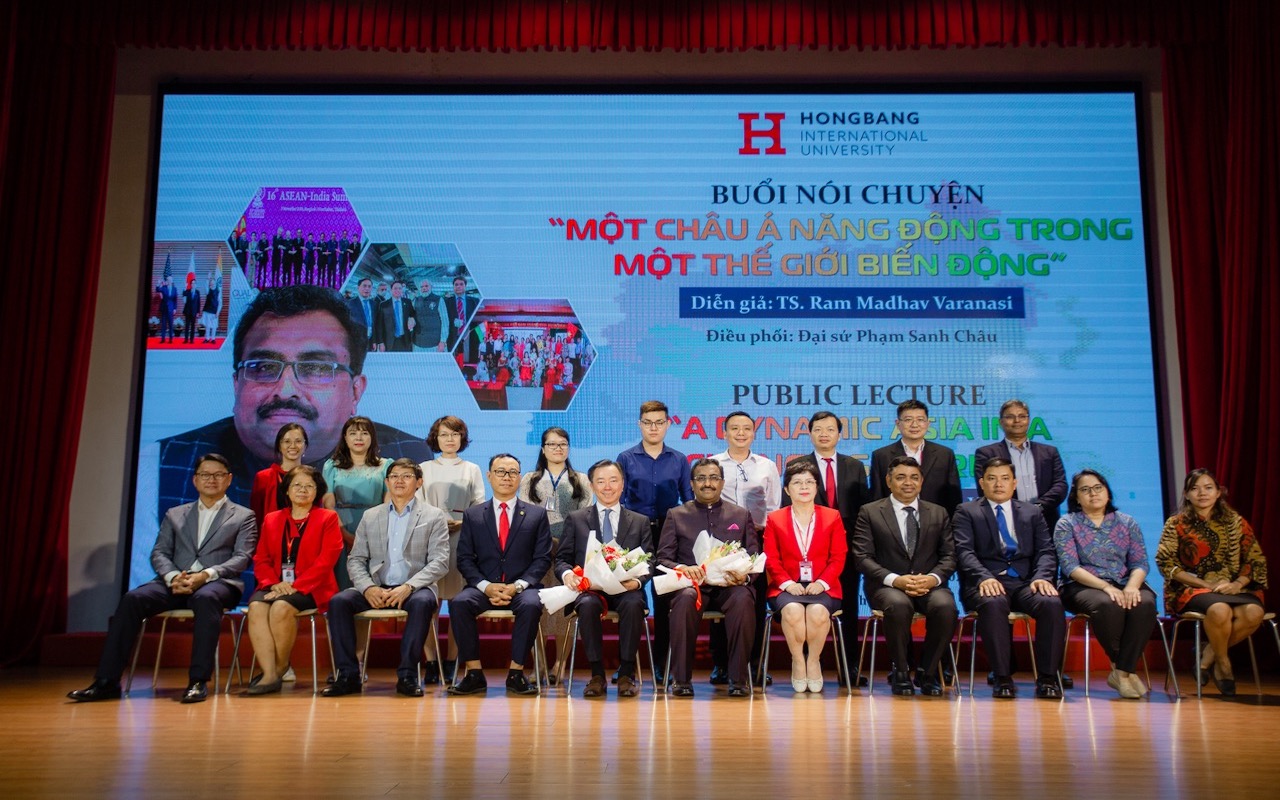 On March 27th, 2023, Hong Bang International University (HIU) organized a public lecture entitled "A Dynamic Asia in the Changing…
Xem thêm
Liên hệ chúng tôi ngay:
0938.69.2015 - 0964.239.172