Department of Vietnamese Studies
Department of Vietnamese Studies
Welcome to Vietnamese study
Major code: 7310630
Major introduction
Vietnamese study major at HIU has 2 programs for 2 subjects:
Program for International Students
Provides knowledge about the country, people, culture of Vietnam and the ability to speak Vietnamese (5/6 levels according to the Vietnamese Language Competency Framework of the Ministry of Education and Training of Vietnam).
Program for Vietnamese students
– Providing comprehensive knowledge about Vietnam in terms of culture, history, economy, society, Vietnamese language, tourism… Bachelor of Vietnam Studies is a high-quality human resource for research activities. Research and teach Vietnamese studies, diplomacy, translation/interpretation, tourism, commerce.
– In addition, Vietnamese study bachelors also have an English level of IELTS 5.5.
Training goals
– Equip students with basic knowledge about Vietnamese language, culture, history, politics, diplomacy, economy and society system, especially foreign students.
– Students are trained in skills in using Vietnamese, language teaching, translation/interpretation; equipped with more professional knowledge of tourism, office work, journalism…
Job position after graduation
– Working at diplomatic missions, educational institutions, corporations, foreign enterprises need personnel who understand Vietnamese culture and can speak Vietnamese fluently.
– Vietnamese study bachelors of both programs, with foreign language skills and knowledge of Vietnamese culture, can continue to study at Master's, Doctoral level in Vietnamese studies or other disciplines in Vietnam as well as study abroad. compete for scholarships abroad.
Admission methods
Follow 1 of 6 HIU enrollment methods: Learn more
To be adviced: Here
Future Orientation
Our programs have many outstanding advantages for you to get the best education. You will study with state-of-the-art facilities and experienced instructors. You will expand your knowledge through a project-based learning approach that combines theory and practice. You will also benefit from the discipline's close relationships with local and international business partners. In addition, the internship program will be an opportunity to help you be ready to enter the real working environment right after graduation.
Ban Tư vấn học tập của Bộ môn Việt Nam học là những Giảng viên có nhiều kinh nghiệm và nhiệt huyết với công việc giảng dạy. Giảng viên sẽ tư vấn học tập, định hướng nghề nghiệp và các bước học tập thật tốt cho sinh viên ngày càng tiến bộ. Hãy cùng gặp gỡ Ban Tư vấn học tập.
Gặp gỡ Đội ngũ Giảng viên của Bộ môn Việt Nam học.
. INTRODUCTION:
The bachelor's degree program in Vietnam has solid political qualities, is perfect in both professional knowledge and handling skills, and has a good service spirit and attitude to meet the requirements of the job. related to the country and people of Vietnam.
EDUCATION PROGRAM:
Graduates will master master:
– Basic knowledge of social sciences and humanities; have general knowledge of the world and deep knowledge of Asia and ASEAN region
– Basic and modern knowledge about the country and people of Vietnam (history, culture, society, literature, economy, politics…);
– Basic knowledge of Vietnamese linguistics (phonetics, vocabulary, grammar).
SEE VIETNAM SECTOR TRAINING PROGRAM FOR VIETNAM: here (dẫn link)
III. CAREER OPPORTUNITIES:
Graduates of Vietnamese studies have the ability to:
– Working in diplomatic missions, international organizations, representative offices, commercial offices, travel agencies, governmental and non-governmental organizations at home and abroad for jobs that relating to Vietnam.
– Working as a Vietnamese translator and interpreter.
– Teaching Vietnamese as a foreign language.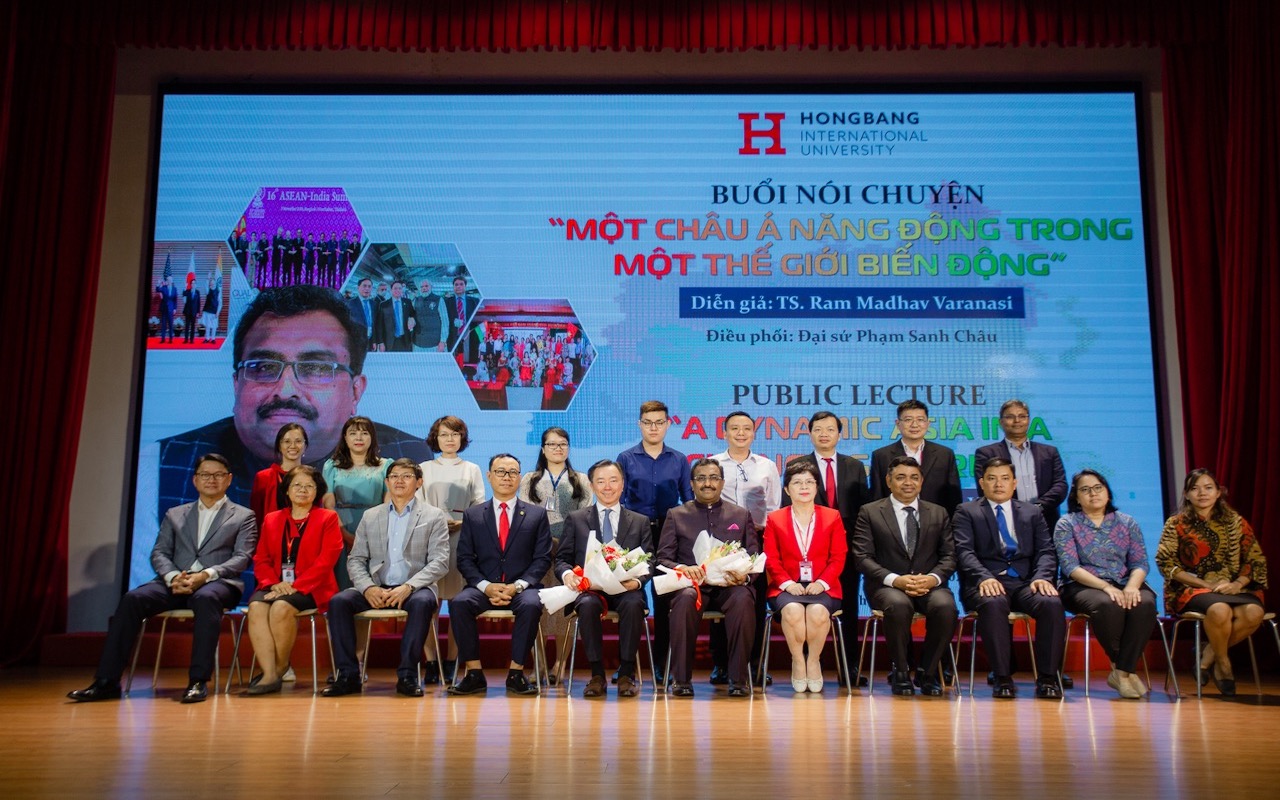 On March 27th, 2023, Hong Bang International University (HIU) organized a public lecture entitled "A Dynamic Asia in the Changing…
Xem thêm
Liên hệ chúng tôi ngay:
0938.69.2015 - 0964.239.172